2023 Top Beach Clubs in Isla Mujeres
Best Beach Clubs in Playa Norte Beach.
It's no secret that Playa Norte Beach is one of the most attractive tourist destinations in the world. That said, one of the best ways to get the most out of your vacation is to go to a Playa Norte beach club. A beach club might just sound like a beach bar, but it is so much more than that. Isla Mujeres Beach Clubs offer a combination of comfort, good food, great drinks and excellent service; an ideal way to relax and have everything you need at your fingertips.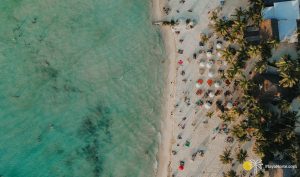 Forget about taking mats and umbrellas all the way to the beach, forget about the hassle of finding a comfortable sport between the masses of people. Beach clubs in Isla Mujeres offer you hammocks, Balinese beds and lounge chairs, they even have tables and chairs if you prefer to eat your meals restaurant-style. All of them offer you most of the amenities you need to have a pleasant and care-free day at Playa Norte beach, including Wi-Fi, parking spaces, great DJs and music and delicious food and beverage. 
Isla Mujeres beach clubs are so varied that there is one for every person. If you prefer to forget about taking your wallet out every second, then an Isla Mujeres All Inclusive Beach Club is for you. If you prefer to go to a Playa Norte beach club for just one day then one with an Isla Mujeres Day Pass might be your best choice. You can find quieter beach clubs or beach clubs that end in huge parties. Either way, there is one for you and you can find it here. We have gathered the best Beach Clubs in Playa Norte, Isla Mujeres.
One of the most popular beach clubs on Playa Norte beach. At Green Demon Beach Club you can relax on their comfortable beach beds and swings while enjoying delicious cocktails and healthy food. This beach club has excellent service from their staff who will accommodate you as you please. We recommend stopping by on a Sunday to enjoy a live DJ set while watching the sunset.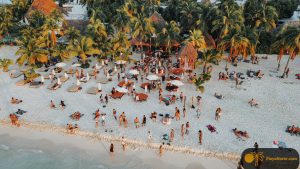 This Isla Mujeres Beach Club is one of the only ones that open from very early in the morning up to night time. You can get there early and take advantage of their delicious breakfast options, enjoy your morning on one of the most beautiful beaches in the world, enjoy drinks all morning and afternoon (you ARE on vacation after all!), and then have dinner. We can't stress enough how good their dinner menu is, they have creative options that you cannot miss. This beach club offers a romantic dinner experience, perfect for couples.
Enjoy the beauty of Isla Mujeres at Tuturreque Beach Club. This Playa Norte Beach club is located at the end of Avenida Hidalgo, Isla Mujeres' main pedestrian street. You can use their parasols and sun loungers as you consume at their restaurant (there might be a minimum fee to consume).
One of the best beach clubs in Playa Norte Isla Mujeres to enjoy the sunset. Gleam at spectacular views while tasting mouthwatering food options. Unwind in the shade under one of their beach umbrellas or soak up the sun in Playa Norte's crystal clear water.
Located in the middle of Isla Mujeres breathtaking Playa Norte, Tarzan Beach Club is a great option for those looking to chill. Spectacular scenery and a clean beach, if you want to get away from day-to-day chores and have a great time, this is for you. Try their green sauce taquitos for a taste of the Caribbean!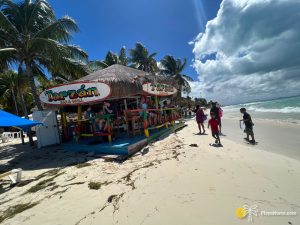 Set in the picture-perfect Playa Norte, Isla Mujeres, Oceanvs has a fabulous beachfront restaurant with the best views. They offer a Mexican-European fusion menu with top quality seafood, seasonal specialties, European delicacies and Mexican regional recipes. They also take into consideration any food allergies or specifications that you may have.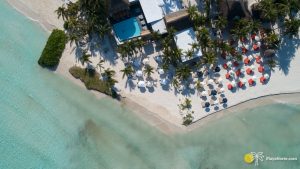 All in all, Playa Norte Isla Mujeres beach clubs are magical places and you will enjoy yourself in whichever one you may choose. What can be better than enjoying one of the most beautiful beaches in the world while being served? You can even try one different Playa Norte beach club per day to get the best of both worlds.